Job satisfaction and profitability are connected. That's why we've created Winningtemp, a unique Swedish innovation to help your personnel enjoy work, grow professionally and contribute to the growth of the organisation.
Winningtemp is a revolutionary technology developed to create prosperous and healthy workplaces. By using Winningtemp's unique engine for collection of data in real time, leaders at all levels in an organisation can work proactively to improve HR issues such as motivation, stress and overload – thereby reducing cost.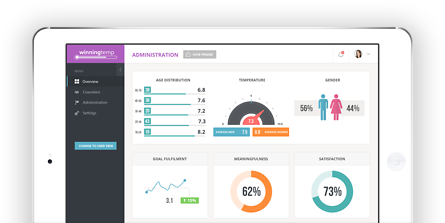 Real-time analytics powered by Artificial Intelligence
Winningtemp collects and visualises data on how your personnel perceives leadership, meaningfulness, task fulfilment and satisfaction in their everyday work. This is made possible by Winningtemp's unique engine for the collection of data in real time.
Mobile simplicity
Winningtemp is designed to be used by everyone in your organisation, as often as possible and wherever they are at the moment. That's why we built an attractive, simple and user-friendly mobile app. Easy access will make the development of your organisation everyone's concern, every day. Of course, Winningtemp is available for use on a PC or Mac as well.

Pierre Lindmark
CEO/Co-founder
+46 709 61 61 34
pierre@winningtemp.se

Jennie Johansson
Account Manager
+46 703 35 63 31
jennie@winningtemp.se